Freak Storm:
Randomly summons a chain lightning, fireballs or snowstorm to attack multiple enemies.
Initial: Dmg +20
Growth: Dmg +20
---
Teleport:
Increases magic defense when melee attacked, teleports herself to cells behind teammates.
Initial: Mag Def +12
Growth: Mag Def +12
note: Magic defense is increased to all attacks, teleport is just to melee attacks.
---
Success:
Increases attack success rate.
Initial: Atk Success Rate +10
Growth: Atk Success Rate +0.2
---
Enchantment:
Inflicts for extra damage for common attack and "Freak Fury" skill, fireball attack ignites the target for 2 rounds, ice arrows decreases mobility for 2 rounds, lightening paralyzes the target for 1 round.
Initial: 30% success rate against enemies below level 41
Growth: 30% success rate against enemies below level +1
note: Common attack is randomly chosen from the three types.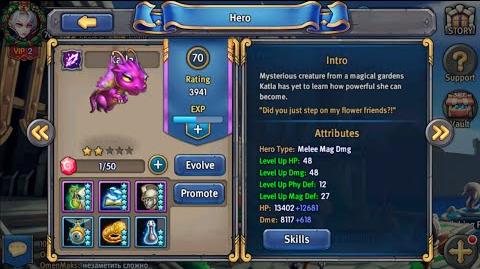 Ad blocker interference detected!
Wikia is a free-to-use site that makes money from advertising. We have a modified experience for viewers using ad blockers

Wikia is not accessible if you've made further modifications. Remove the custom ad blocker rule(s) and the page will load as expected.